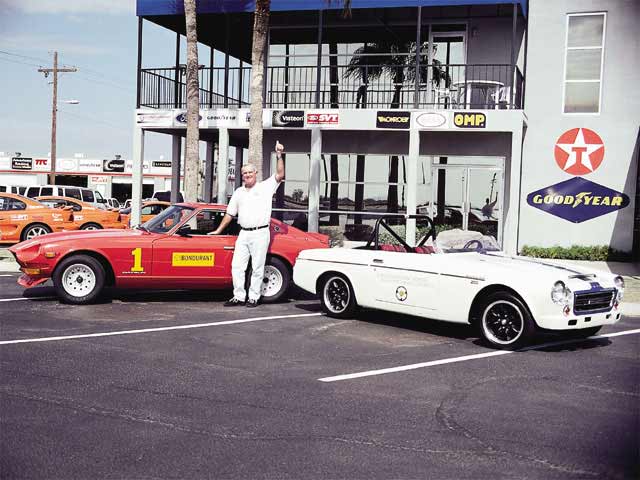 By Dan Barnes
Photography: Josh Jacquot
To the hard-core enthusiast, Bob Bondurant is legendary–one whose greatness is linked inextricably with some of the most historic American moments on racetracks around the world.
Bondurant was one of the few men fortunate, skilled and bold enough to race on the world championship level–at a time when the Europeans who dominated it didn't take American racers seriously.
Many of the races were run on very long courses comprised entirely of public roads, which few Americans had experienced before.
Bondurant was a professional and getting the job done meant going to the courses ahead of time and learning them. In the process, he didn't just learn the courses, he got to know them even better than many of the Europeans who had raced on them many times before.
As time went on, he shared this experience with his teammates and was called on to teach non-racers how to drive fast. He helped prepare actor James Garner for his role in the 1965 movie classic "Grand Prix," perhaps the best racing movie ever. Bondurant found he enjoyed teaching and proved to be exceptionally good at it.
If you look at the careers of the Americans who drove Cobras in Europe, you'll find that most of them retired from driving, while still very competitive. Racing still takes some of its greatest home early; in the 1960s, it was truly a blood sport. Many Europeans seemed to accept this as the cost of doing business, but there was something in the Americans that made it difficult to continue taking the risk forever.
Phil Hill and Dan Gurney both came to realize it. Carroll Shelby has attributed much of his grudge against Enzo Ferrari to the death of a driver who was his friend. The specter of death was the central theme of "Grand Prix." Bondurant's turn came in 1967, when he met an embankment at about 150 mph. In a wheelchair with two broken legs, he decided that was close enough.
When Carroll Shelby retired from racing due to a heart condition in 1960, he moved from Texas to California and started a driving school in Riverside, Calif. Soon thereafter, he hired Pete Brock to help him run the school as well as his Goodyear race tire distributorship. By 1967, Shelby's school remained one of only two active racing schools in the United States and though his other endeavors had grown to the point where he could barely hang onto them, the driving school was not considered a resounding success.
In spite of this, Bondurant drafted a plan to open his own driving school. When his initial request for school cars was rejected by Porsche, Bondurant approached Datsun. The small company was in need of the publicity and the cars represented a smaller monetary investment. Plus, they had just gotten serious about performance with the 2000cc overhead cam engine in their roadster. Mayfield Marshall, Datsun's marketing director at the time, took Bondurant's proposal to Yutaka Katayama, Datsun's president and got approval. On Valentine's Day in 1968, the first of more than 80,000 students to learn car control at the Bob Bondurant School of High Performance Driving did so in two brand new Datsun roadsters (one 1600 and one 2000), a 510 and a Formula Vee.
As aspiring racers learned their craft at the now-defunct Orange County International Raceway in Irvine, Calif., the durability and performance of the cars was proven and Datsun ads began featuring the white roadster with a single blue stripe down the center. All the school cars were painted 1969 Ford Boss 302 Orange in 1969 – about as bright orange as a car could be –and is still a hallmark of Bondurant cars 32 years later.
In 1970, apparently there was some miscommunication with Datsun and even though Mr. K. wanted to continue providing cars to the school, there would be no deal made with Bondurant. So Bondurant went back to Porsche and with his proven record, easily obtained two 911Ss and a pair of 914-6s for the next two years. What is now known to be a 914 weakness proved problematic with constant hard use and the cars' chassis eventually cracked just aft of the firewall. In 1972, the relationship with Datsun was renewed and new cars were provided, including several 240Zs.
This is where the story gets a little confusing. At the time, nobody imagined that, 30 years later, a yet-to-be-born journalist would call with questions about exactly which cars were used when and where. The school was moved to Ontario Motor Speedway in 1970, where three 240Zs had been prepped for use as pace cars by Brock Racing Enterprises. During part of 1971, Bondurant related that a 240Z and a pair of 510 sedans were used alongside the Porsches. When the school moved north to Sears Point in August of 1973, the three pace cars went with it. The 240Z pictured here was one of them.
At Sears Point, a Datsun 810 sedan was used to introduce students to the track. They then moved on to 240Zs, in which they and an instructor would switch off between driving and riding. As today, the most advanced students made it into Formula Fords, while inexpensive and reliable, reward smoothness and can beat Cobra lap times on a handling course. The 240Zs ran great and handled even better, Bondurant said, and they took all the school's abuse in pretty much stock condition.
By the time the original 240Zs were retired from active duty, the school had built enough history that Bondurant decided to keep one around and he took it along when the school was moved once more to Phoenix International Raceway in the early 1990s. A few years ago, Datsun stopped building the Z car, and suddenly Datsun nostalgia was in style. The time was right and Bondurant commissioned Les Cannady to restore some cars for the school's museum. Cannady is the proprietor of Classic Datsun Motorsports, one of the shops commissioned to rebuild the Z Store 240Zs to as-new condition. It would be difficult to find anyone more qualified. The first car Canady built for Bondurant was a 2000 roadster, which Sport Compact Car featured in the November 1997 issue. That was a reproduction of the original school car, built from a clean car of unknown history, a few old photographs and faded memories.
This 240Z was waiting in the wings and it is the real deal. Cannady stripped layers of paint and body filler and rebuilt it like new. The Z is completely original, the way countless student drivers thrashed on it, save for a pair of Recaro seats and some basic, invisible engine mods. It's restored right; not for the "purists," but the way Bondurant wanted it. The original bottom end was worn out, so it was replaced with a fresh L28 unit. The original head was kept, adding high compression to the extra displacement. It was also ported and polished by John Caldwell, the man responsible for getting 170 hp out of the L16s in the BRE 510s. That was complemented by a slightly lumpier cam, a lightened flywheel and electronic ignition.
Engineering editor Dave Coleman drove one of the Z Store original 240Zs, and said it felt like just an old car. But this Z, on the other hand, got Coleman's approval. "The engine pulled strong, and the car was fun to drive," he said. This is an opinion shared by Bondurant, who said he is considering going vintage racing with the car, though it now resides in his museum. Vintage racing would be fitting for a car that has already spent decades of its life on racetracks. Like Bondurant himself, and many of the men he raced with in the '60s, this car may be old, but it's not finished yet.
Bondurant 240Z
Engine
Engine Code : L28
Type : In-line six, iron block, aluminum head
Internal Modifications : Head ported and polished by John Caldwell, mild cam
External Modifications : N/A
Engine Management Mods : Electronic ignition
Horsepower : N/A
Torque : N/A
Drivetrain
Layout : Longitudinal front engine, rear-wheel drive
Drivetrain Modifications : Lightened flywheel
Suspension
Front : Stock
Rear : Stock
Brakes
Front : Stock
Rear : Stock
External
Weight : 2,300 lb (estimated)
Body : BRE "spook", rear spoiler,bumpers removed, 1969 Ford Boss 302 Orange paint
Interior : Recaro seats, Simpson harnesses, three-spoke steering wheel